A young dog arrives from Hungary in Emmental.  What does she experience? Who does she meet? How does she find trust?
This short film (30 min) accompanies a dogs life as she explores her new territory and home and tries to make sense of humanity.
See more in the teaser below!

This short film accompanies the life of an intimidated and traumatized dog from
a Hungarian animal shelter in the Emmental and learns how to let go slowly of her fears and aggression. The film tells a very simple story: How can a relationship
between human and animal grow and how can respecting another being not only create deeper trust, but can also lead to more freedom, joy of life and a mutual understanding.The backdrops are the landscapes of the Emmental with its
rolling hills, forests and farms.


The film is available online for free: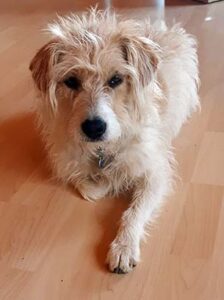 Hi, I am Shakti. You will find out more about me when you watch the teaser or you can already look at some "In the making" shots. And of course, when you see the big film. If you would like to donate some money towards the food of my buddy Renata, my best friend Romaine, as well as of course towards my own food, that would be very much appreciated. You can click on the "Donate" button.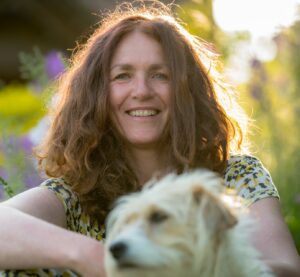 Renata Keller | Regisseurin, Kamera
Renata Keller is a filmmaker and dialogue facilitator based in Berlin and Switzerland. She has worked in visual arts for over thirty years. With a master's degree in Applied Imagination at University of Arts in 2006, Renata went on to study documentary filmmaking in London. Renata's lifelong pursuit of philosophical and spiritual questions, along with her interest in women's development, led her to Gerda Lerner's work and inspired the creation of Why Women Need to Climb Mountains (2016).
In the film True Healing Arises in Freedom (2019) she accompanies the Biochemist Dr. Roger Kalbermatten in his research about the nature of healing plants and their relationship with humans. Her meeting with Vimala Thakar and her questions about the values of our times has led her to work on the current film In the Fire of Dancing Stillness. Until 2018 she was the CEO and art director of the German philosophical quarterly magazine 'evolve'. She ran various Salons in Berlin and gives dialog seminars worldwide. www.verticalimpulse.com.


Foto: Ursula Morgenthaler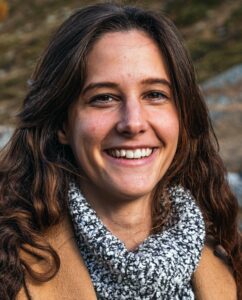 Romaine Imboden | Cutterin, Kamera
Born and raised in Valais, I decided to complete the preliminary design course at the Lucerne University of Design and Arts after finishing my hotel apprenticeship. Afterwards I studied film and successfully graduated with a focus on editing. Since graduating, I have been working on various film projects as an assistant editor and editor, which is how I got to know Renata, for which I am very grateful.
I am a communicative, fun-loving person, rarely in a bad mood and I always strive to improve myself. I like to spend my free time with my friends, my family and my dog, do yoga or dance, travel, but also enjoy time alone to read a good book or play the guitar.
For me, values like joy in life, gratitude, balance and empathy are of great importance. I am very much looking forward to the creative collaboration with Renata and am excited about what the future holds for me.
Fabian Koppri | Filmmusik und Ton l Berlin
Fabian Koppri is a composer and Masters student at the Babelsberg Film University. His music combines the acoustic and electronic worlds. He has already worked with director Renata Keller on the films "Why women need to climb mountains" and "Echte Heilung findet in Freiheit statt" (2019), as well as "Im Feuer der tanzenden Stille" (2020). together. By layering tones and sounds, he creates a resonant architecture that invites listeners to linger and reflect like a wide open space. www.fabiankoppri.com
           or email verticalimpulse@posteo.de
For questions to the director about the film, financing and press inquiries, please feel free to use this contact form.​